Welcome back to another Stamp Review Crew blog hop.
The Stamp Review Crew is a group of Stampin' Up! demonstrators from around the world that get together on the 1st and 3rd Monday of each month for a blog hop. Each hop we showcase one stamp set and show you just how much you can do with it. Get ready for lots of inspiration and lots of reasons to use (or buy😊) this stamp set!
Currently you are visiting Lou Kitzelman on the Sunshine Coast, Australia. Hi!
For this hop we are featuring
Varied Vases
. It comes with a coordinating punch .... which is awesome. It was designed by
Mary Fish
when she reached $1 000 000 in sales. Thanks Mary ...... this is one of my favourites!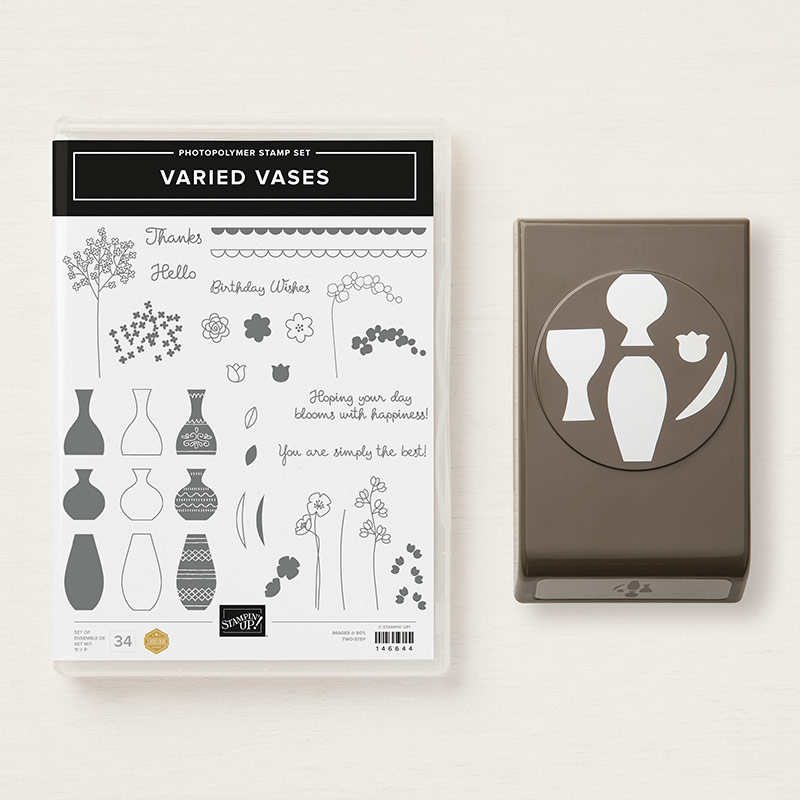 There is so much scope with this stamp set. The flowers and vases are just fabulous. I decided to not be my normal crazy self and think inside the box today instead! Okay I did poke 1 toe outside the box! Can you see what I did? (Apologies for the blur on this photo - I won't tell you how long I have played around with it! The cyclonic winds didn't help! Squint and it goes into focus!)
I used the Vase Builder punch to extend the vases so I could fit more flowers in. Look it might not be creative genius but I thought it was worthwhile showing you how to get more out of your punches and stamp sets. I cut a strip the width of the each vase and poked one side in and punched just that side. Then I poked the strip in as you can see below and punched the other side. It just allows you to make larger shapes and the same idea can be applied to lots of punches.
This was the perfect way to make a bigger orchid pot.
The pots are punched out of Gray Granite cardstock and I used the matching ink to add some shading in with my aqua painter.
Each card has the same elements - embossed card front, matted stitched shape panel, overhanging pot and mini sequin trim. You get a different look by changing the embossing folder and panel shape.
I love these poppies. The stamp has 2 flowers so I just stamped it at different heights and angles to get an arrangement. A few hand cut flowers add some interest and depth.
This is such a versatile stamp set, especially if you purchase the punch as well. I am sure you will get so many great ideas from the crew. Make sure you hop around to see what all the crew have done with this gorgeous stamp set. Next up is Debra. Can't wait to see what amazingness she has to show us.
Lou
If you love colouring and want to learn some tips and tricks to get fantastic results you might be interested in our
new module at Stamp In Confidence
. It includes videos and written info to get you colouring like a professional. Read all about it
here
.
Product List